By my count, a near Noah's ark of anthropomorphic pool players have picked up a cue stick.  I've written about cats and mice (Tom and Jerry – "Cue Ball Cat"), ducks (Donald in Mathmagic Land), sharks and rainbow fish (Rainbow Fish – "Pool Shark"), sheep and sheepdogs (Shaun the Sheep – "Shaun Goes Potty"), woodpeckers and buzzards (The New Woody Woodpecker Show – "Cue the Pool Shark"), and even a talking Palomino (Mr. Ed – "Ed the Pool Player" ).  Now, to this menagerie, we must add rats and bears.  Welcome to the "Billiards" episode of Benrat.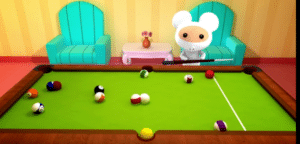 Benrat is a Chinese animated web series that included 30 six-minute episodes released across two seasons in 2013. "Billiards" is the fifth episode from the first season of Benrat.  The series features four characters: the eponymous Benrat, an optimistic, well-intentioned murine; Bossy, a self-righteous, trouble-making bear; Noby, a smaller ursine who is simple and honest; and Fansy, a cute pink female rabbit. Together, this quartet engages in a variety of activities, from the mundane (e.g., "Brushing Teeth," "Waste Sorting") to the competitive (e.g., "Archery," "Ping Pong Ball").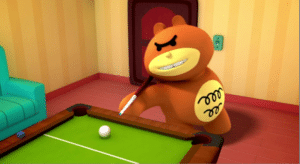 Unlike some cartoons aimed at the pre-tween set, Benrat seems to offer no life lessons for kids; rather, it is intended purely to engage and elicit laughter, even at the expense of the characters. In "Billiards," Benrat and Bossy compete in a game of 8-ball.  Bossy, clearly the better players, sinks all the balls, except the eight, on his break.  When Benrat has his turn, he accidentally jams the cue into the felt, ricocheting him backward into the wall.  With the game up for grabs, the pair continue to distract one another with harmless antics, until Bossy's cue stick hits the overhead lamp, causing it to fall on him and — electrocute him (?!?), thereby giving the victory to Benrat. (Kids, do not try this at home on your parents' pool table.)
You will not find Benrat on any network or on IMDB. There is a surprising dearth of available information about the series.  Ultimately, I realized this is because Benrat is a property created by the KungFu Animation Group. It can be found on KungFu World, their online animation copyright trading portal, which exists for the sole purpose of allowing Chinese animation copyright owners to sell their works to professional buyers overseas. [1]
Though there is a distributor (Elite Movies) associated with Benrat, I could not determine if the series had found an international buyer.  The little rodent may have won the game of 8-ball, but I suspect his days of billiards were numbered.
The "Billiards" episode of Benrat is available here to stream on Amazon.
[1]       https://www.pressreader.com/china/china-daily/20150812/282243779320634
(Visited 4 times, 1 visits today)