In February 1989, the American comedy sitcom Small Wonder aired an episode that had me wondering how this series lasted four seasons. Entitled "Minnesota Vicki," the 91st episode (out of 96) focused on Ted Lawson (Richard Christie) inviting his boss over for dinner and billiards on a rented table, with the hope that some friendly pool would help him land a huge promotion at United Robotronics.  Ted doesn't make much headway until, unbeknownst to him, Vicki (Tiffany Brissette), his robotic daughter (literally) plays his boss and ultimately wins ownership of the company in the process, due to the boss' hubris and incredulity that a child could ever play pool so well.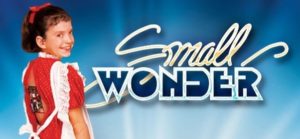 For the uninitiated, Small Wonder chronicles the family of Ted Lawson, a robotics engineer, who creates a robot modeled after a 10-year-old girl, and then passes the robot off as his adopted daughter, Vicky (or V.I.C.I., an acronym for Voice Input Child Identicant).  Like many robots on TV, this one has unusual abilities, including a super-strong break and such geometric precision that she can seemingly make any shot on the table, including sinking all the balls on the break.
The episode is pretty humorless, portending the end of the series.  The jokes feel forced, the script is stale, the acting is thin, and – oh god, those '80s wardrobes. It's no small wonder (!!) that none of the lead actors had much commercial success after the series ended. In fact, the only silver lining to "Minnesota Vicki" is the trick shots in pool, courtesy of technical consultant Lou Butera. Aside from the standard multi-pocket shots, there are some beautiful jumps and masses.  (Fans of "Machine Gun" Lou know that he not only appeared in The Fall Guy episode "Eight Ball," but also played pool in movies such as Racing with the Moon and Police Academy 6: City Under Siege.)  The full "Minnesota Vicki" episode is available to watch here.
But, for such a lame episode, "Minnesota Vicki" does engender two interesting questions.  First, could a robot play pool so well?  And second, could a 10-year-old child play pool so well?
I tackled the first question about three years ago when I reviewed the My Living Doll episode "Pool Shark" so I won't rehash it here, as not much has advanced.  Suffice to say, a lot of robots are being built to shoot pool, though none can currently play like V.I.C.I. or the My Living Doll android Rhoda Miller.
The second question, however, presents new terrain for my blog, as the billiards movie/television milieu has been lacking elementary school-aged prodigies. (I'm guessing Bobby Brady was at least a teenager when he showcased his pool prowess in The Brady Bunch episode "The Hustler.")
Fortunately, it doesn't require much online searching to affirmatively answer that it's not science fiction for a young child to play amazeballs pool.  Take Keith O'Dell, who set the world record for youngest billiards player at the age of 25 months.  You can watch him dazzle in this video from when he was 5 years old.  Or, there is Wang Wuka, age 4 when this video was filmed, from Eastern China, who spends several hours a day on the snooker table.
In fact, as billiards buffs and historians know, a number of the sport's greatest started at a very young age.  As we learned in the documentary The Strickland Story, Earl "The Pearl" Strickland started playing at age 8, when his dad snuck him into a North Carolina pool hall.  Billiards Congress of America Hall of Famer Loree Jon Hasson ran her first rack at age 5 and performed her first trick shots at age 6 at a Chicago men's World Straight Pool tournament.[1] The great Jean Balukas gained such attention at age 6 from performing in a billiards exhibition at Grand Central Station that she subsequently appeared on the show I've Got a Secret.  By the time she was in 2nd grade, she was being billed as the "Little Princess of Pocket Billiards."
And, of course, there is the legend Willie Mosconi, who first learned to play pool by practicing with small potatoes from his mother's kitchen and a broomstick. At age 6, he participated in an exhibition match against the reigning world champion Ralph Greenleaf. Mosconi lost but the game cemented his reputation as a prodigy. By the time he was 11, he was the US juvenile straight pool champion, regularly holding trick shot exhibitions.[2]
So, if you're thinking of betting your company in a game of pool against a fifth-grade android, remember: it's not the robotic circuitry you need to worry about.  You've been warned.
[1]       "BILLIARDS; A Top Player Survives That Sinking Feeling," New York Times, August 12, 1995.
[2]       "10 Extraordinary Child Prodigies," April 6, 2009.
(Visited 1 times, 1 visits today)