Salvador Dalí. Walt Disney. Eleanor Roosevelt. Lucille Ball. Alfred Hitchcock. Walt Frazier. Althea Gibson. Dizzy Gillespie. Aretha Franklin. Groucho Marx. Jesse Owens. Vidal Sassoon. Barbara Walters. Orson Welles. Gore Vidal. Sean Connery. Along with hundreds of others, these celebrities all had one thing in common.  Care to guess?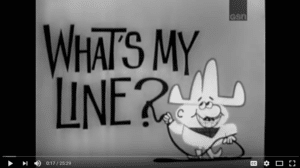 They all appeared on the famous panel game show What's My Line?  And to this pantheon of household names, we can also add two renowned billiards players, Willie Mosconi and Minnesota Fats, who appeared on the show September 2, 1962 and January 17, 1965, respectively.
What's My Line? aired in the United States on CBS initially from 1950 to 1967, making it the longest running U.S. primetime network game show. Moderated by John Daly, the game required four "celebrity" panelists to question a contestant in order to determine his or her occupation, with panelists occasionally having to identify a celebrity "mystery guest" by name. Though there were a number of panelists during the 17-year run, a majority of the episodes had a panel that included columnist Dorothy Kilgallen, actress Arlene Francis, and Random House Publishing founder Bennett Cerf.
Willie "Mr. Pocket Billiards" Mosconi, of course, was (and still is) considered one of the greatest pool players in history. He won the World Straight Pool Championship an unmatched 15 times, and he set the straight pool world record in 1954 for pocketing 526 consecutive balls in an exhibition match.
Sadly, I cannot find the What's My Line? episode featuring Mr. Mosconi as the mystery guest, though I know he signed in as "Mr. X" to avoid recognition, and the celebrity panel included Ms. Francis, Ms. Kilgallen, Mr. Cerf, as well as the flamboyant composer and pianist Liberace. If you find this episode, please share it with me.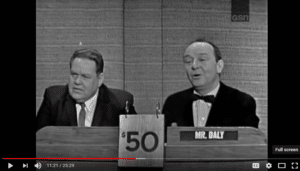 Fortunately, the episode featuring Minnesota Fats is available to watch on YouTube here.  New York Fats, aka Rudolf Wanderone, was a pool player and hustler who assumed the name Minnesota Fats in 1961 after the release of The Hustler, starring Jackie Gleason as the fictional character Minnesota Fats. Though he appropriated the moniker and was only a decent player, Minnesota Fats quickly became one of the world's most famous billiards players, appearing in movies (The Player), starring on game shows (Celebrity Billiards with Minnesota Fats), authoring books (The Bank Shot and Other Great Robberies), and headlining video games (Minnesota Fats – Sega Genius).
In this Season 16 episode of What's My Line?, mystery guest Mr. Fats enters by signing in as Rudolf Wanderone. His profession, which the panelists must guess in 10 or less turns, is "professional pocket billiards player." The panel, which includes Ms. Francis, Ms. Kilgallen, Mr. Cerf, as well as author and comedian Alan King, are not blindfolded, as they often are with celebrities who are visually recognizable to the general public. Though the panel determines he is an indoor performer who uses "props," moves around a good deal, requires skill and dexterity, is an expert/champion in sports, and has been seen on television, they fail to guess his identity.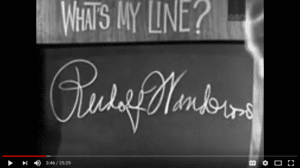 When the host Mr. Daly finally reveals his identity, eliciting applauses, head shakes, and an "Oh Yes!" from Ms. Francis, Mr. Daly goes on to reinforce the myth that Mr. Fats "came to great fame" because he was portrayed by Jackie Gleason in The Hustler, which, of course, was entirely inaccurate. Mr. Daly goes on to cite other parts of Mr. Fats' resume, including that he was also Vice President at billiard table manufacturer Rozel Industries in Lincolnwood, Illinois.[1] Ironically, the fast-talking Mr. Fats has little opportunity to speak in the episode, often over-ruled by Mr. Daly, but he does have a classic in-character retort to Mr. Cerf's ignorant question about the famous poker novel later adapted into a movie:
Mr. Cerf: Are you in The Cincinnati Kid? Are you one of the characters?
Mr. Fats: I am one of the characters whenever pool is concerned.
For Mr. Mosconi, What's My Line? was but one of three game show appearances he made.  He also showed up on To Tell the Truth in 1958 and I've Got a Secret in 1962. As noted above, Mr. Fats adored the limelight and parlayed his celebrity into a starring role on Minnesota Fats Hustles the Pros in 1967 and then on Celebrity Billiards with Minnesota Fats from 1968 to 1971.
[1]       Rozel, formed in 1963, sold pool tables and accessories under the name Minnesota Fats Billiard & Leisure Centers. In 1980, the five Minnesota Fats stores were converted to Video King outlets. The company filed for bankruptcy in 1985.
(Visited 43 times, 1 visits today)