The turn into the 20th century was an exciting time for movies.  In 1900, the first films appeared, as defined by incorporating basic editing techniques and narrative.  One-reel films, running five to eight minutes, replaced the earlier single-shot films. Distribution exploded, with the number of US theaters skyrocketing from a handful in 1904 to 8,000-10,000 in 1908.  By 1910, several "firsts" had occurred: Hollywood produced its first film (Old California by D.W. Griffith); Life of Moses became the first multi-reel film to show; and a man jumped out of a burning hot balloon into the Hudson River, marking the first movie stunt.
But, there is an even greater reason to landmark 1910.   Yes, ninety-seven years ago, the first two billiards movies, both French, were created: Calino joue au billard and The Devil's Billiard Table.  Unfortunately, I have not been able to locate either of these films, and I cannot confirm they still exist.  So, I beseech my readers:  If you can help me locate either of these movies, please contact me directly.
Calino joue au billard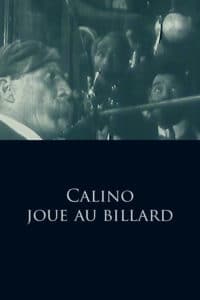 At the turn of the century, the leader in European cinema was the Pathé Company, which was revolutionizing the film industry by manufacturing its own equipment and mass producing movies under one director. In 1907, the Pathé Company innovated once more when it launched a series of one-reel comedies starring André Deed.
The only serious competitor to the Pathé Company was Gaumont Pictures, which was just a quarter its size. In 1908, Leon Gaumont told his production head they needed a comic series similar to that of Pathé.  The net result, beginning in 1909, was the Calino series of one-reels, directed by Romeo Bosetti.  Calino was portrayed by Clément Mégé, an "acrobatic veteran of the circus and music hall." [1]
In total, Gaumont produced 23 Calino films between 1909 and 1910.  Calino joue au billard, which translates to Calino Playing Billiards, released in 1910.  Like all movies of that time, it was silent and black-and-white. The six-minute comedy largely depicted the troubles and panics caused by Calino around the billiard table.  Unfortunately, no more information is available.
The Devil's Billiard Table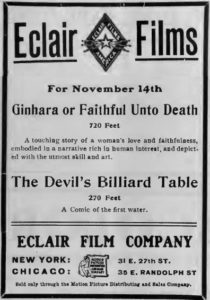 There is some confusion surrounding the French comedy film The Devil's Billiard Table (originally titled Le Billard du Diable). Released in the US as a split-reel along with Faithful Unto Death, the movie has been erroneously attributed to the directors Georges Hatot and Victorin-Hippolyte Jasset.  But, in fact, that duo directed Faithful. The directors and actors behind The Devil's Billiard Table remain an unsolved mystery.
What is more certain is that the movie was created by Éclair Films, a French film manufacturing company that one year later opened an American branch, the Éclair American Company, in Fort Lee to churn out short films. [2]
Judging by its length, 83 meters (272 feet), The Devil's Billiard Table was approximately three minutes in length. A description of the film comes directly from IMDB:
Mr. X is a great billiard player, and is quite proud of his accomplishments in this direction. He never misses to challenge any of his friends, and, of course, never fails to come out victorious. As time goes on, his friends grow tired of being continually beaten, and besides, they are goaded by the knowledge, that despite their best efforts, they are unable to humiliate the proud Mr. X. At about this time, Mephistopheles happens along and tells the young friends of Mr. X, that if they will give him their souls, he will, in turn, challenge the mighty billiard player, and beat him at his own game. So keen has become the desire to avenge themselves upon their adversary that they make the compact. Accordingly Mephistopheles challenges Mr. X, who readily accepts, feeling confident, of course, of victory. He does not play very long, however, before he realizes that he is playing against some greater power than himself and all too soon, he is beaten by the artful wiles of his enemy.[3]
Regrettably, the consensus online is that the progenitors of the billiards movie genre — Calino joue au billard; The Devil's Billiard Table; Billiards Mad (1912); and A Game of Pool (1913) – are all now gone.  If this is true, we should mourn the passing of this noteworthy quartet.  Fortunately, the W.C. Fields' short film Pool Shark (1915) is widely available, thanks to its distribution by Criterion, making it now the grand patriarch of the genre.
[1]       The Ciné Goes to Town: French Cinema, 1896-1914, Updated and Expanded Edition
[2]       http://www.fortleefilm.org/studios.html
[3]       http://www.imdb.com/title/tt4906384/?ref_=fn_al_tt_1
(Visited 6 times, 1 visits today)