In honor of my 150th blog post, I must turn my attention to the less honorable, seldom discussed, near-underground genre of #NotABilliardsMovie. Yes, these are the films that peddle in billiards imagery and idiom – pool tables, eight-balls, cue sticks, green baize – to lure in viewers, yet upon closer inspection, have little to nothing to do with the sport. The egregious members of this sinister club are movies that reveal a blatant disrespect for billiards, seizing upon the popular appeal of pool to bamboozle the unsuspecting cinephile.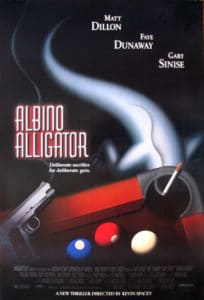 On occasion, the storyline gives a fleeting nod to billiards, perhaps featuring a lone pool table as part of a billiards bar backdrop. Such is the case with Kevin Spacey's 1996 directorial debut Albino Alligator, in which a New Orleans bar, pool table and all, provide the venue for a foiled robbery attempt.  But, far more often, the billiards is simply a siren's call, a cinematic fool's errand that leaves the viewer despondent and depressed.  To help rid Hollywood of this subterfuge, I present to you my meticulously researched list of the Top 15 #NotABilliardsMovie movies, with each malefactor representing a decade of blog posts.  Let the countdown begin (and note that all summaries are courtesy of IMDB).
Signage. In 2007, Rick Hammerly directed this 12-minute short film in which a receding hairline, the beginning of crow's feet and a chance encounter with a young deaf man force the protagonist to confront getting older in today's youth-conscious world. The poster proclaims, "When life calls the last shot," while showing the bottom left corner of a pool table, but the game is a ruse, largely irrelevant to the film. 

#NotABilliardsMovie
Destiny Stalled. When I first saw the poster to this short film from 2000, I was so keen to watch it that I reached out to the director Susan Johnson because the movie was unobtainable online. Ms. Johnson kindly sent me a password to watch the movie on a private video hosting platform. It's a touching film about the connection forged between a man and boy at a hospital. But whereas the poster would suggest that billiards is critical to their interplay, the irritating truth is that pool is a transitory thread. 

#NotABilliardsMovie
Angels with Dirty Faces. Good versus evil. The priest versus the gangster. Father Connolly versus Rocky Sullivan in a fight over the fate of a group of 'dead end kids.'  Michael Curtiz' 1938 drama sizzled on the screen, with James Cagney starring in an Oscar-nominated role as the magnetic local crime boss. So, what's with the pool hall as the fateful setting for the head-to-head confrontation? Yes, our gang of street urchins frequent a pool hall, but this poster is a cheap shot, ya dirty rat. 

#NotABilliardsMovie
Behind the Eight Ball. At times compared to the Marx Brothers, the Ritz Brothers (Jimmy, Harry, and Al) were an American comedy team making movies since the early 1930s. But, in 1942, they crossed the line with the musical comedy Behind the Eight Ball, which had the members of a summer theater group getting mixed up with spies and murder. The film featured a bullet-shooting clarinet, but the poster was cue stick crookery. 

#NotABilliardsMovie
8-Ball and 8-Ball. Given the plethora of authentic

billiards movies unoriginally named "8-Ball,"

it's borderline criminal that these two foreign films felt compelled to exploit the popular term for no reason remotely related to the sport. The 2013 Finnish film, originally titled 8-Pallo, is about a single mother who, having just been released from prison, is trying to start her life anew. And the 2012 short film from Argentina is about about a man having a personal crisis who seeks solitude in a park, when a passing stranger named 8-Ball takes an unwelcome interest in him. Really? Couldn't the stranger have been named Agapito or Hecmir? 

#NotABilliardsMovie
Belle Speranze. Visual skullduggery hit a new nadir when director Mike Leigh's 1988 film High Hopes was released at the Venice Film Festival as Belle Speranze. Somehow, this "slice-of-life look at a sweet working class couple in London, Shirley and Cyril, his mother, who's aging quickly and becoming forgetful, mum's ghastly upper-middle-class neighbors, and Cyril's pretention sister and philandering husband" became about playing billiards in dimly-lit pub halls. As boring as the American movie poster is for this film, at least it's honest. 

#NotABilliardsMovie
Behind the 8 Ball (series). Also known as the So You Want… series, this collection of 63 black-and-white live action short films, released between 1942 and 1956, all starred Joe McDoakes as the protagonist. Each film humorously addressed an everyday problem (e.g., So You Want to be in Politics; So Your Wife Wants to Work; So You Want to be a Cowboy). But, no mirth could be found in the prominence of the large 8-ball that features repeatedly in the opening credits of each short. 

#NotABilliardsMovie
Quarterlifers. Adam Fortner directed this 2011 drama about "four lifelong friends who are each struggling to learn what's important in their lives through crazy, heart-warming, and hilarious situations." OK, I guess with a plotline that insipid, I too might opt to bait a larger audience by featuring pool in the movie poster.  At least one of the four amigos buys a local billiards bar and tries to operate it.  It's a start. 

#NotABilliardsMovie
Blue Velvet. As much as I enjoyed David Lynch's discomforting 1984 film, I'm disturbed that the movie's Italian poster, illustrated by prolific movie poster designer (i.e., 3000+ movie posters) Enzo Sciotti, not only references a rape scene that does not exist in the film (although it is rumored the scene was shot), but trades on the visual iconography of the pool table (which is used in the movie when Frank beats a man senseless on the table while topless girls surround him) to create one of the most repugnant billiards images in cinema. And – again – the scene never even happened! 

#NotABilliardsMovie
Carambolages. This 1963 French film from director Marcel Bluwal translates to "carom shots." As if the cue stick in the top left corner was not sufficiently specious, then certainly the title's translation into one of the most common strokes in billiards is an act of lexical jugglery, for this comédie noire is about climbing the corporate ladder, not banking in billiards. 

#NotABilliardsMovie
8 Ball Bunny. Look, I love the gray hare trickster as much as anyone, but there is no reason this 7-minute animation from 1950 needs to capitalize on billiards fandom with this inane image of a penguin sitting on an 8-ball. According to IMDB, in this short "Bugs helps a penguin go home via New Orleans, Martinique, the Panama Canal and finally the South Pole. But the penguin's home is in New Jersey." Maybe if the penguin is a metaphor for New Jersey-born Billiard Congress of America Hall of Fame inductee Allen Hopkins, I could buy it.  Otherwise, this cunicular con needs to come clean. 

#NotABilliardsMovie
Raja Natwarlal. The poster for this 2014 Bollywood drama, directed by Kunal Deshmukh, shows an attractive couple leaning on a pool table, but the film is actually about a small-time con man seeking assistance form his mentor with the intention of settling scores with a gangster. Apparently, the culprit for this visual deceit is prolific movie poster creator Bharat Devaliya. Shame, shame. 

#NotABilliardsMovie
Eight Ball. Rick Argall directed this 1991 Australian deception that not only traffics in eight-ball imagery and nomenclature, but also repurposes the sport's argot with the tagline, "In life the trick is to get an even break." Pity the uninformed viewer who expects some billiards bravado. This film is about a self-absorbed architect who befriends an ex-convict as they work on building a tourist attraction designed to resemble a huge fish. 

#NotABilliardsMovie
Muzi v Nadeji. This 2011 Czech film (translated as Men in Hope) from director Jiri Vejdelek includes one of the most popular (and #NSFW) billiards scenes on the internet. Thousands of people have watched and shared it, likely with little knowledge of its origin. Indeed, the scene is the basis for the movie's poster, which exploits the intended viewer's love of both billiards and beautiful, buxom women. Yet, aside from the one scene, this two-hour comedic romance shows no interest in billiards. 

#NotABilliardsMovie
Nine Ball Diaries. Of all the

#NotABilliardsMovie

transgressors, the top dog is this 2008 documentary on – wait for it – cyclocross, an extreme form of bicycling. Aside from the indignity that the film relies entirely on the softly haloed image of a 9-ball (and includes said ball in its title), the poster simultaneously snubs its own subject, as if to fatuously assume that cyclocross is well-understood.   And, lets' face it, with the exception of Breaking Away, the bicycle-movie genre could probably use some good PR.
I hope this list has raised your mercury level a bit.  This sort of affront requires action. Perhaps, you'll consider a boycott, or a hunger strike. Maybe join a sit-in or march to Hollywood to draw attention to #NotABilliardsMovie.  Of course, if other domestic and global issues seem more important (which is remotely possible), then I encourage you to sit back down on the couch, grab a beer and some popcorn, and watch any of the 200+ legitimate billiards movies, short films, and television episodes I've cataloged.
(Visited 216 times, 1 visits today)