When Poolhall Junkies premiered in 2002, I remember thinking, "Damn! That's an incredible roster of talent for a billiards movie." The film starred two former Oscar winners – Rod Steiger (In the Heat of the Night) and Christopher Walken (The Deeer Hunter), as well the incredible Oscar-nominated Chazz Palminteri (Bullets Over Broadway). My excitement was understandably a wee more muted about the casting of Ricky Schroder.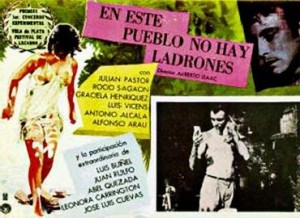 But, if one really wants to experience the who's-who, one-two wallop of billiards movie casting, then the film to start with is There Are No Thieves in this Village (original title: En este pueblo no hay ladrones), a 1965 Mexican movie about how an impoverished community responds when three billiards balls are stolen from a local saloon.
Created in response to the Mexican STPC film union's "First Experimental Film Contest," a competition designed to rejuvenate the struggling Mexican film industry, There Are No Thieves in this Village was the directorial debut (and second prize winner) of Alberto Isaac. The movie is available to watch in its entirety here, but note it is in Spanish and without subtitles.
Shot in black-and-white with minimal budget in only three weeks in Mexico City and Cuautla, the film features a pantheon of modern-day Mexican art and culture intelligentsia. For starters, the movie is based on the identically-named short story written by the hitherto unknown, future Nobel Prize in Literature winning author Gabriel García Márquez, who subsequently had 30 movies made from his stories and novels, including Love in the Time of Cholera.   Marquez also appears in There Are No Thieves in this Village, making it the first of only two cinematic appearances in his career.
Also appearing in the film as a local priest is the Spanish filmmaker Luis Buñuel, who the New York Times referred to in his obituary as "a leader of avant-garde surrealism in his youth and a dominant international movie director half a century later." Six of his films are listed in Sight & Sound's 2012 critic's poll of the 250 films of all time, and three of his films (Tristana; The Discreet Charm of the Bourgeoisie; and That Obscure Object of Desire) have been nominated for Oscars.
Others in the movie include: film director Arturo Ripstein, who won the prestigious National Prize for Arts and Sciences; artist and iconoclast José Luis Cuevas; esteemed author Juan Rulfo; Surrealist painter Leonora Carrington; cartoonists Ernesto García Cabral and Abel Quezada; and critic and journalist Carlos Monsivaís. All of these future cultural leaders were part of a tight circle of friends kept by director Issac and writer (and future film critic) García Riera.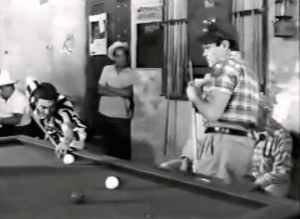 It is debatable whether There Are No Thieves in this Village is truly a "billiards movie," as the only billiards in the film occurs in the opening sequence of three-cushion billiards. (For more on this billiards variant, check out the 2005 film Carambola.) In this sense, it is more akin to the 1991 Swedish film A Paradise Without Billiards, which depicts an immigrant's life in a community that does not play billiards.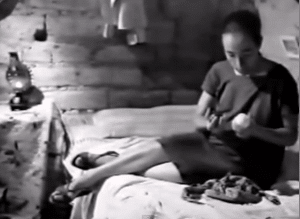 In There Are No Thieves in this Village, it is the absence of the balls, resulting from an act of larceny committed by the dim-witted troublemaker Damaso, that causes a community to unravel. Initially, the local denizens find themselves rudderless and without activity. That idleness turns to racist aggression when the community identifies a black man as the culprit of the crime. Damaso, showing no regret or concern for his actions, sits back like a passive spectator, as the black man is first beaten and later sent to sea for his crimes. In fact Damaso, who only took the billiards balls when his felonious efforts turned up no other booty, subsequently even toys with the idea of forming a gang and stealing additional balls as a money-making scheme. It is only when his pregnant wife can no longer contain her guilt by affiliation that Damaso reluctantly attempts to return the billiards balls.[1]
Watching the movie today, I'd say There Are No Thieves in this Village represents a watershed moment in Mexican film casting (and certainly in billiards movie casting), though the actual film is just of passing interest. I think this one reviewer said it best:
"Every time that I see this movie the result is the same, what were the conditions of the epoch to see such an incredible cast of characters. I haven't seen another movie with so many artists, at least as important as the artists that appear in this movie… If someone is interested in Mexican culture at that time this film is absolutely a must."
Thus, as an end to this post, and as a final postscript, let us say R.I.P. to Gabriel García Márquez, who passed away earlier this year in April.
[1]       My summary may be slightly inaccurate given both the movie and the short story were in Spanish. To read the original story, go to: http://estoespurocuento.wordpress.com/2013/06/15/gabriel-garcia-marquez-en-este-pueblo-no-hay-ladrones-cuento/
(Visited 397 times, 1 visits today)