Allison Fisher.  Pan Xiaoting. Kim Ga-Young. Kelly Fisher. Jennifer Barretta.  Chieh-Yu Chou. Jasmin Ouschan. Cha Yu-ram.  All in one movie? The last time so many billiards pros appeared in a single film was probably 1980 for Robert Ellis Miller's The Baltimore Bullet.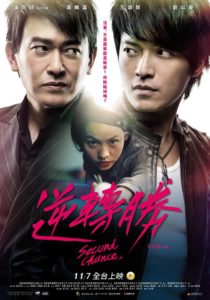 But, this is no Baltimore Bullet.  The all-star packed film is Second Chance, formerly known as Nine Ball, as well as A Girl Got Her Cue. And that octet of billiards legends is not even the film's biggest celebrity draw – it's Wen Shang-Yi (aka the guitarist "Monster" from the Taiwanese mega-watt rock band Mayday – once dubbed the "Chinese Beatles"[1]) in the lead role as Hsieh Shuang-Fong.
I first heard and wrote about Second Chance in April 2014, when I added it to my "Wanted!" list of movies, since there was little information available on the film.  Over time, details emerged about the film, largely in Asian press, including eventually a trailer and music video, in preparation for the film's release in Taiwan in November 2014. Originally titled Ni zhuan sheng, the film adopted the English title Second Chance as it moved across the globe in early 2015. Finally, late last year, the film became available on DVD (with English subtitles) thanks to its distributor Edko Films. You can buy it here.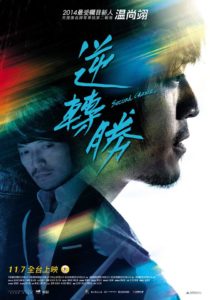 The movie begins with Shuang-Fong, a washed-up, drunk, former billiards champion, who now scrapes by selling Rice Wine Stew Chicken, drawn out of his decade-long retirement by his niece Hsieh Jen-hsiang (Peijia Huang). She recently lost her parents, one of whom was Shuang-Fong's elder brother, in an auto accident.  Lacking a proper guardian, Jen-hsiang is at risk of being sent to a foster home, as well as losing her family billiards hall, Champion Billiards, to Hsu Che-yung (Jason Wang), a loan shark, and the reigning world men's 9-ball champion.
Like Rocky Balboa begrudgingly coming out of retirement to train Apollo's son in Creed, or more to the genre's point, like Fast Eddie Felson training the cocky Vincent Lauria in The Color of Money, the besotted Shuang-Fong is initially reluctant to get involved with his niece's life.  But, sensing the headstrong schoolgirl will stop at nothing, including gambling in pool, to save the family pool hall, he ultimately relents.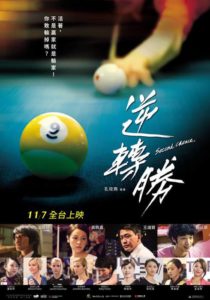 At first, he merely observes her playing style: "The shot is too weak…the wrist is too stiff…precision is high, good control over the balls…attack but no defense – too ambitious…bad at long straight shots." Predictably, such perceptions soon translate into a billiards practice regiment, complete with solving jigsaw puzzles under time constraints (to build concentration), shooting a cue ball narrowly between two glasses (to increase accuracy), and taking early-morning jogs (to build endurance and strength). The over-familiar practice montage (cf. Rocky; The Karate Kid) is absurdly hokey, yet nonetheless enjoyable, particularly when powered by Monster's cover of Roxette's 1989 song "The Look" with Taiwanese pop stars Luantan Ascent and Jia Jia on vocals.  (Though this song does wear out its welcome after excessive use in the film.)
Even for non-billiards enthusiasts, the movie hits its groove when Jen-hsiang is on the baize. Some exciting playing occurs when she is vanquishing amateur opponents, but the best play comes once she decides the only way to save her pool hall is to compete in the New Century Women's 9- Ball Championship for the multi-million dollar prize (cf. The Baron and the Kid; Kiss Shot).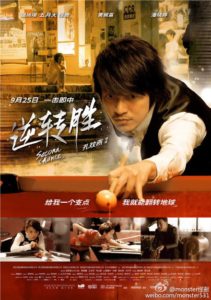 It's at this point, more than halfway through Second Chance, when our billiards stars appear, entering the tournament hall in file form to the deafening sound of their names and nicknames:  The Duchess of Doom. Kwikfire. The Queen of 9-Ball. Little Devil Girl, etc. And in the caboose position, the hitherto unknown Jen-hsiang.
Once again, cue "The Look."
In rapid order, Jen-hsiang beats her first opponent, Jasmin Ouschan, the World Games 2005 gold medal winner, and her second and third opponents, Kim Ga-Young and Kelly Fisher respectively, both women's WPA world 9-ball champions. Bewilderingly, very little of the games are shown, so it's hard to appreciate these miraculous upsets.
In the semi-finals, Jen-hsiang competes against Chieh-Yu Chou, winner of the 2012 Amway Cup. There is, at last, a decent amount of billiards play, including a fine masse shot, and after a near snookering, a great jump shot 2/9 combination to win.
That leaves her to play the final match against China's Pan Xiaoting, the 2007 women's WPA world 9-ball champion.  Director Wen Yen Kung heightens the tension in this match through a mix of slow-motion, rapid editing and amplified sounds (of balls connecting, falling in pockets), as well as numerous dazzling combinations, masses, and jump shots.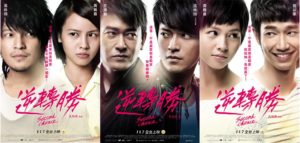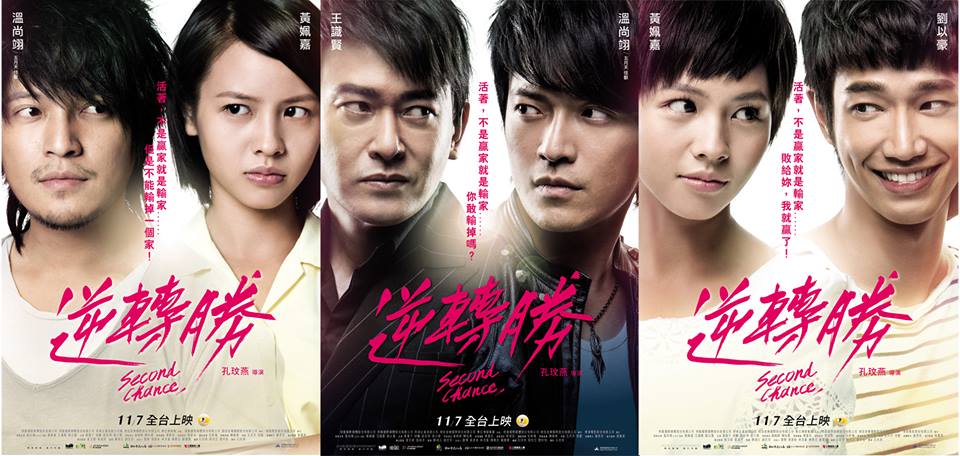 It's hardly a SPOILER ALERT to share that Xiaoting wins the match 9:8, dashing Jen-hsiang's plan to retain control of Champion Billiards.  And that's because the movie opened with Shuang-Fong preparing for a match, before flashing back nine months.  So, that loose end still dangling, the audience knows that the real fate will be decided in this final match, which I won't reveal here.
As one reviewer correctly noted, "Second Chance is hardly going to win points for originality…It's a film that plays by the rules – you'll recognize the same moves we've all seen a million times."[2] But, it's also a movie that goes down easily, fusing its positive themes of redemption and family with a geek chic passion and well-trained visual eye for billiards and its beauty.
[1]       http://www.cnbc.com/2014/03/19/he-chinese-beatles.html
[2]       http://www.easternkicks.com/reviews/second-chance
(Visited 60 times, 1 visits today)