In the mid-1970s, the mood was not light in the State of Israel. With a population at the time of about 3.5 million people, the Middle Eastern nation, which is only a little larger than New Jersey, had gone through the Six-Day War (1967); the War of Attrition (1967-1970); a number of Palestinian attacks, including the massacre of 11 Israeli athletes at the 1972 Summer Olympics; and the highly violent Yom Kippur War (1973).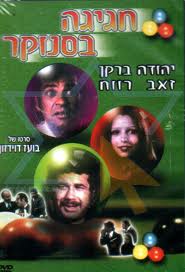 Confronted by such hate and immersed in such carnage, perhaps it is not surprising that a group of Israeli filmmakers tried to inject some escapism and levity into the times with their introduction of Bourekas films, a genre of "comic melodramas or tearjerkers… based on ethnic stereotypes" that proved highly popular at the box office. [1] Included in this peculiar genre is Hagiga B'Snuker, the sole billiards movie to originate from Israel.
Also known as Snooker or Festival at the Poolroom, this 1975 film was directed by Boaz Davidson, one of the pioneers of Bourekas (and likely the creator of the term). Today, Mr. Davidson is better known as a prolific movie producer, with films ranging from Rambo to The Expendables, though he is also the director behind a streak of '80s sex comedies, such as The Last American Virgin, Hot Bubblegum, and Private Popsicle.
Hagiga B'Snuker is about two estranged twin brothers, Azriel, a shy and religious Jew who works in a village fruit store, and Gavriel, a hustler who operates in a pool hall called Moadon Snooker, where unsuspecting victims are roped by his friend Hannukah and then conned out their money. (Both brothers are played by Yehuda Barkan. Hannukah is played by Ze'ev Ravach.)
The act works well until Gavriel makes the mistake of hustling Mushon (Tuvia Tzafir), a nebbish dolt, who happens to be the son of Salvador (Joseph Shiloach), a mobster once known as the Israeli King of Snooker.
Fleeced by Gavriel of the money intended for his tooth replacement, which was to make him more attractive for his upcoming arranged nuptials, Mushon returns to the pool hall with his father, who pretends to be an easy snooker mark.  Hannukah and Gavriel approach him for a game of 3 Reds (essentially a faster version of snooker, with only three red balls instead of 15).[2]  Overly confident, they increase the bet to 60,000 Israeli lira, which equals about $10,000 US dollars (or $46,500 in 2017). But, the moment the bet is sealed, Salvador unlocks his briefcase, and begins to assemble his cue stick. Hannukah and Gavriel, mouth agape, stare incredulously, as Salvador subsequently pots every ball without missing, therefore winning the wager.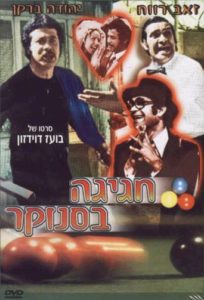 Hagiga B'Snuker then follows the duo's foiled attempts, first to avoid paying the debt and then to secure the money.  Ultimately, with no options remaining, Gavriel is forced to renew contact with his brother, who could conceivably provide Gavriel with the money if they sell the family estate. But, their parents' will specifies that the property can only be sold if Avriel is married.
More hijinks ensue, especially as Hannukah impersonates a rabbinical matchmaker and Gavriel pretends to be his twin brother in order to win the heart of, and marry, a local rabbi's daughter, Yona (Nitza Shaul).  But, in a bizarre coincidence, Yona is also the bride-to-be for Salvador's son Mushon.
[SPOILER ALERT!] At last, the only way Gavriel and Salvador can settle both the monetary debt and the competing love interest for Yona is, predictably, through another game of 3 Reds. Even this game, however, is compromised when Azriel accidentally shows up at the pool hall.  Seeing Azriel (and mistaking him for Gavriel), Salvador forces him to play the game. Azriel, never having played snooker, quizzically picks up the cue stick and, mistakenly using the butt of the stick, miraculously pots all the balls on one shot, thereby unknowingly winning the bet and the heart of Yona.
Though not an overly memorable film, Hagiga B'Snuker is nonetheless a welcome addition to the billiards movie canon because of it humorous setup, as well as its Israeli representation and portrayal of the game 3 Reds.
Hagiga B'Snuker is available to buy with English subtitles on DVD from the Israel Catalog.
[1]       "And Then There Was One," Uri Klein, Harretz, 2008.
[2]       Thank you to my colleagues at Snooker Potcast for helping me to identify the 3 Reds variant of snooker.
(Visited 4 times, 1 visits today)