Welcome to 8 Ball on the Silver Screen!  This blog is exclusively about billiards movies, billiards TV shows, billiards short films, and billiards web series.  I'm reviewing every one of the 200+ that I have found.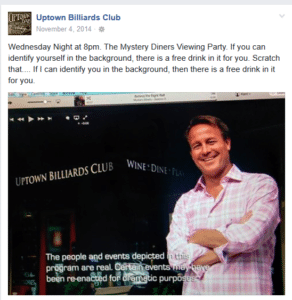 Based on posted reviews and garnered awards, you would be mighty foolish to visit Portland, Oregon, and not spend an evening dining and playing pool at the Uptown Billiards Club, located in the city's Pearl District.  The upscale restaurant-cum-pool-hall is rated 4.8 (out of 5) on Open Table, 4.6 (out of 5) on Facebook, and 4 (out of 5) on Yelp, and it has been recognized as a Top 100 "Fit For Foodies" restaurant, as well as a Top 10 restaurant in the Pearl District.  Have you seen the Big Daddy Burger or the signature Bacon, Pear & Fontina Pizza?  They look absolutely sumptuous, and don't even get me started on the "themed" five course tasting menu…
Thus, it's hard to imagine why the club's owner, Kent Lewis, genuinely felt the need to go on the reality show Mystery Diners and spy on his newly hired "social media expert" to validate his usefulness.  But, that's exactly the premise of the "Behind the Eight Ball" episode… Read the full post HERE.
I've discovered more than 200 billiards movies, TV episodes, short films, and web series. Below are the first 10 full-length billiards movies I believe were ever made.  Check out my full list.  Also take a look at my list of billiards scenes from other (non-billiards) movies and TV shows.
Bad Boy

(1935)

The Hustler

(1961)
There Are No Thieves in This Village (1965, Mexico, original title: En este pueblo no hay ladrones)
Operacion Carambola (1968, Mexico)

The Player

(1971)

Wandering Ginza Butterfly

(1971, Japan, original title: Gincho wataridori)
Carambola (1974, Italy)
Carambola, Filotto…Tutti en Boco (1975, Italy)
Festival at the Poolroom (1975, Israel, original title: Hagiga B'Snuker)

The Baltimore Bullet

(1980)
Win $20 in FREE Billiards Supplies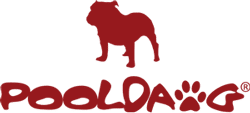 Do you see a billiards movie, TV episode, short film, or web series missing from my list? If so, send me an email with the name of the missing show.  If you're right, I'll send you a $20 gift certificate for FREE billiards supplies courtesy of Pooldawg, the pool player's best friend.
(Visited 6,695 times, 1 visits today)