Welcome to 8 Ball on the Silver Screen!  This blog is exclusively about billiards movies, billiards TV shows, billiards short films, and billiards web series.  I'm reviewing every one of the 200+ that I have found.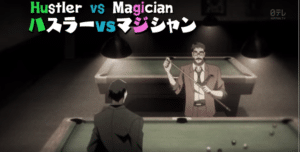 More than 30 years ago, Gosho Aoyama wrote and illustrated a Japanese manga series entitled Magic Kaito. The story was about a teenager, Kaito Kuroba, who learns that his father was The Kaito Kid, a famous international criminal who was mysteriously murdered over a jewel theft. Vowing to avenge his father, the adolescent becomes a master illusionist and assumes the identity of the Kaito Kid.
The story was turned into the 24-episode anime series Magic Kaito 1412 that aired from October 4, 2014 to March 28, 2015. In "Hustler vs Magician," the third episode of the series, Kaito learns that his close family friend Jii, who owns the Blue Parrot Billiards Club, once lost the diamond and emerald-encrusted Legendary Cue (stick) to a local mob boss when he was beaten by the boss' pool shark, Tsuujirou Hasura in a rigged match.  Now the same boss is threatening to close down the billiards club.  Read the full post HERE.
I've discovered more than 200 billiards movies, TV episodes, short films, and web series. Below are the first 10 full-length billiards movies I believe were ever made.  Check out my full list.  Also take a look at my list of billiards scenes from other (non-billiards) movies and TV shows.
Bad Boy

(1935)

The Hustler

(1961)
There Are No Thieves in This Village (1965, Mexico, original title: En este pueblo no hay ladrones)
Operacion Carambola (1968, Mexico)

The Player

(1971)

Wandering Ginza Butterfly

(1971, Japan, original title: Gincho wataridori)
Carambola (1974, Italy)
Carambola, Filotto…Tutti en Boco (1975, Italy)
Festival at the Poolroom (1975, Israel, original title: Hagiga B'Snuker)

The Baltimore Bullet

(1980)
Win $20 in FREE Billiards Supplies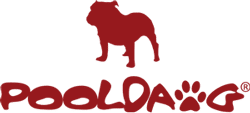 Do you see a billiards movie, TV episode, short film, or web series missing from my list? If so, send me an email with the name of the missing show.  If you're right, I'll send you a $20 gift certificate for FREE billiards supplies courtesy of Pooldawg, the pool player's best friend.
(Visited 7,739 times, 5 visits today)